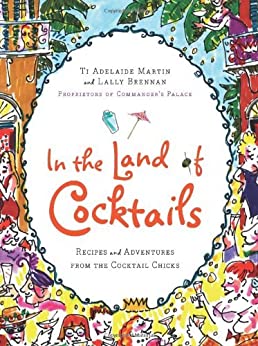 In The Land of Cocktails: Recipes and Adventures from the Cocktail Chicks
Can't tell a Gin Fizz from a Gimlet? Think a Sidecar is something you'd see at the racetrack? If your idea of a wild night is a few Lemondrop shots washed back with a Cosmo, you're in need of some cocktail therapy! And there's no one better to tell you everything you need to know about a Brandy Crusta, a French 75, a Cachaça Swing, and much, much more than Ti Adelaide Martin and Lally Brennan, who will take you on a rip-roaring trip. . . .
In the Land of Cocktails
Proprietors of the legendary New Orleans restaurant Commander's Palace, Ti and Lally are cocktail divas, spread-ing the gospel about how to make drinks properly, from why a true Sazerac can only be made with Peychaud's bitters to why hand-chipped ice is best for cocktails. In this marvelously entertaining book—both a guide to making some of the world's best cocktails and a memoir of the authors' lives surrounded by family, friends, and delicious food—there are recipes for familiar classics like the Corpse Reviver and the Old-Fashioned; New Orleans favorites like Brandy Milk Punch and the Sazerac; and new inventions created by Ti and Lally, such as their now-famous Whoa, Nellie!
In the Land of Cocktails includes information on pairing food with cocktails, introductions to the beloved, boisterous Brennan family and their friends, and explanations of some of the unique, perhaps strange to some, words and ways of life in New Orleans. Filled with wit, sass, warmth, and lots of good times, In the Land of Cocktails is the ideal gift for cocktail lovers everywhere, whether you're a novice or an old drinking pro.
Returns
We are unable to accept returns or exchanges and all purchases are final sale. We apologize for the inconvenience and appreciate your understanding! If there was an error with your order, please accept our sincerest apologies. We would love to have the opportunity to correct our mistake. Please notify us as soon as possible at 
ashley@gracefulhost.com
Shipping & Returns
The Graceful Host Shop happily ships to anywhere in the continental US. We strive to ship out orders within 24-48 hours. All orders ship from our party shop in Covington, Louisiana. Please note that we do not ship on Saturdays, Sundays, or U.S. nationally observed holidays. Tracking information will be e-mailed to you once your parcel has shipped.